THE POINT OF DIFFERENCE
Led by industry leaders, Point College aims to set a new benchmark in the creative industry. Its world class education is differentiated by courses which optimizes hands-on and experiential mode of delivery, enabling students to learn from real life experiences whilst working on local and international projects.
Point College with its worldwide affiliations gears students to be industry ready, armed with just the right amount of knowledge and industry exposure.
PRESIDENT & FOUNDER OF POINT COLLEGE
Backed with an unprecedented 30 years of experience in the industry, Yoki Chin's contribution to the Film, TV, Animation, Design, New Media, Communication and other Creative Content industry is second to none. To date, Yoki has more than 100 international and local creative awards to his name.
President of FilmPOINT Sdn. Bhd., Creative Media Point Sdn. Bhd. & Point Studios Sdn. Bhd.

President of POSTAM (Post Production, Animation & Creative Content Association Malaysia)

Honorary Secretary of CCAM (Creative Content Association Malaysia)

Former Deputy Chairman of CCIG (Creative Content Industry Guild)

Former Vice President of GAFIM (Federation of Screen Guilds of Malaysia)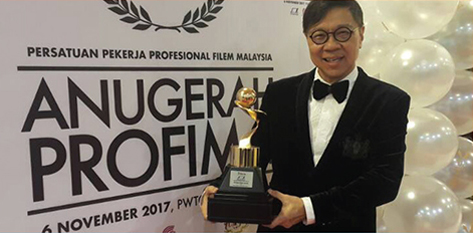 Yoki Chin was awarded with the Lifetime Achievement Award (Film) by the Minister & Secretary General,Ministry of Communications & Multimedia Malaysia
Directing a TV Commercial featuring Jackie Chan

Awarded 'Queen Bee' recognition at D'Hive, Shanghai by the Shanghai Goverment for outstanding achievement in the creative media industry.

With the Ministry of Communication & Multimedia,Malaysia. King of Shadows animated movie was selected as one of 5 Chinese & 5 European features film in Bridging The Dragon during Cannes Film Festival